Testimonials:
Almost 90% predictions made by the Astrologers from Vedang Jyotish have came true in the past 3 years… here are some of the testimonials received by those who sought advice from Vedang Jyotish regarding their family (family disputes or child birth etc), career (progression in career or change in job etc), health, property and other areas of concern.
Please also visit the Articles Page available on this website to understand the kind of research which is undertaken by the astrologers at Vedang Jyotish.
We would be happy to answer any of your queries, please send mail to a_sharma07@rediffmail.com
Recorded Testimonials:
Email Received Aug 2019:
Email Received July 2018:
Email Received from Ms Anjana Halder:
Email Received from Dr Paridhi on Child Birth:
Email Received: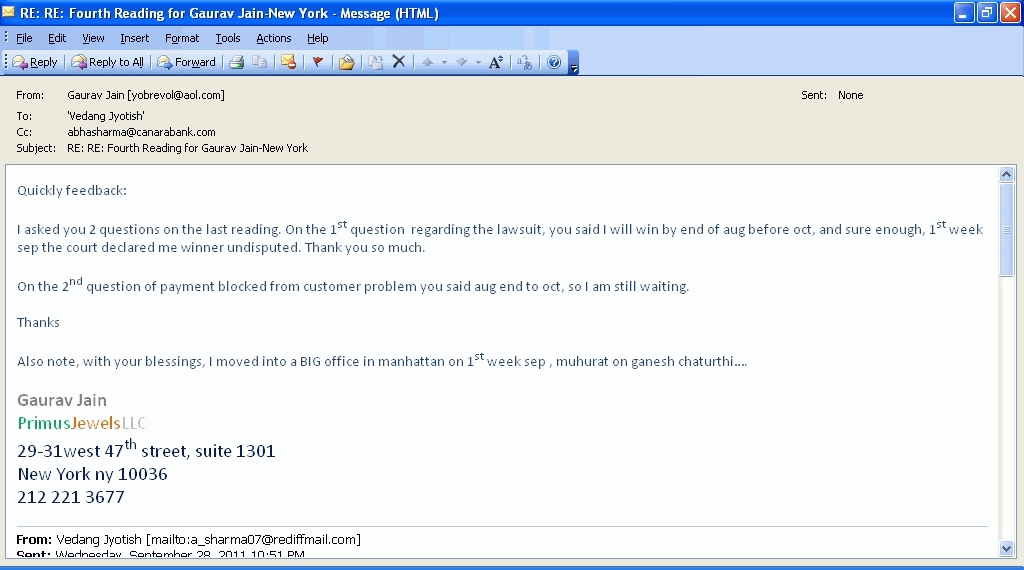 Email from Mr. Srinivas Rao:
Gaurav Jain from US wrote on 24th May 2010:
This mail snap is from a lady who got paralyzed and recovered as per the suggestions provided by Vedang Jyotish..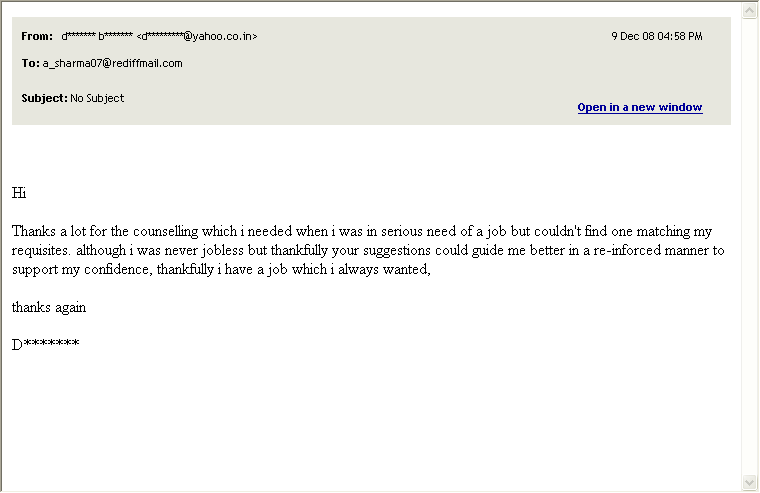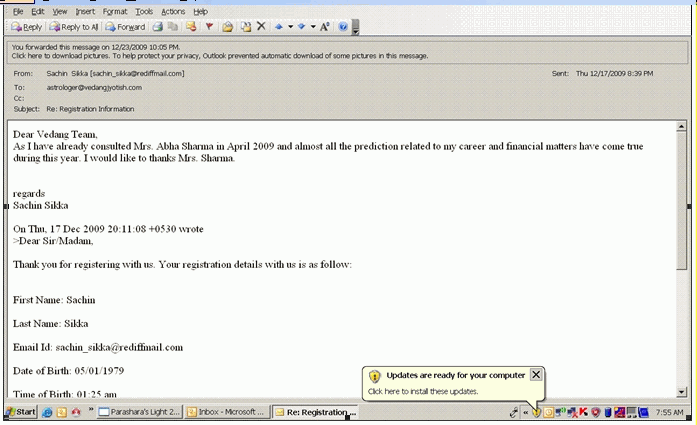 Dear Vedang Jyotish, your prediction about the change in my career stood correct during the month of October 08 for which you had predicted in July 08, also as predicted by you I have also purchased a house in Delhi, though it seemed very difficult when you had predicted…Thank you for your predictions, I look forward to consulting you again… uday_k_bhatt@yahoo.com
Dear Vedang Jyotish, your prediction about my foreign travel has come true, I am flying to UK for a long term assignment next week for which you had predicted 3 months ago. Looking forward to seeing the results of other predictions also…Thank You….boygaurav@gmail.com
Dear Vedang Jyotish, your prediction about the change in my career has come true, and I have got a very senior position in a multinational company, the same was predicted by you 6 months ago… I shall be consulting you again.. pratuls@rediffmail.com
Hello Abha ji...how r u?
I wanted to let you know that I have got a job and as you predicted it was after 1st april.
My main concern is my health which is not improving.Im still having problems related to bladder pain and Im seeking your guidance.
Im happy to make a payment for your services so please let me know. Im very depressed and scared for my future. I really need to know if I will get well...I have never been so scared in my life.Im very depressed and feel very helpless.I have been chanting mahamrityunjai jaap every day.
Thanks
Rajyalaxmi
On 13 Jan 2013 21:37, "Raj Rathore" <rajrathore4321@gmail.com> wrote:
Hello Abhaji...its me again! This time its about my inlaws...digvijays parents are very unwell.My father in law has parkinsons,heart disease and now he is losing vision in his eyes.My mother in law is still suffering from arthritis. They need our help.We are planning to move back to India to look after them as Digvijay is the only child.
However we r a little concrrned as u have recommended for us not to go back to india for another 15 yrs or so...other astrlogers have said the same thing.However we need to look after our parents too so what do u suggest and advise? Is there any remedy so we can go back and live a good life in India as well? Will I get a job there? Will Digvijay be able to start a profitable business?
Thanks
Rajyalaxmi
More to come…..